HARP ACCESSORIES



We sell the following popular harp accessories:
Harpo Trolley
Harp Strings
Harp Pickup by Headway
Travelling Practice Harp
Items in stock are dispatched same day if ordered before 4.30PM.

If you are looking for a "special" harp accessory, please call us on 01494 913686 with your requirements.
---
Unique tuning key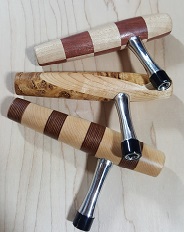 Each key is handmade with no two being alike. Please specify which key you would like, or contact us if you have a specific request.
Price: £50
---
Harpo Trolley

A superior harp trolley
Light weight
Pneumatic wheels
Snap lock nylon webbing straps

Fits all concert harps



Price:

£630
Several years ago a harpist in Germany became extremely fed up and frustrated by the inadequacies of the harp trolleys that were available. Fortunately for harpists her husband was a home engineer and the head of quality control for BMW cars. He set about designing and making a trolley that would address all the shortcomings that his wife complained about with respect to the other trolleys available.
The aspects that he set out to improve were, weight, steering, ability to cope with various terrains, ease of use on stairs, capability to be drastically smaller when not in use and secure yet easy attachment off the harp to the trolley.
These problems were solved by using aircraft grade aluminium alloy for the structure, large diameter pneumatic wheels, ingenious collapse and lock mechanisms for the frame and platform and a quick release system for the wheels, a large solid non-slip covered platform and quick release nylon webbing straps.
The result is the Harpo trolley which, despite being so vastly superior to any other trolley that it would merit a price of 3 or 4 times that others charge, is in fact only about 25% more expensive than other trolleys. When you consider that your harp is likely to be worth between 10 and 30 thousand pounds, then an extra £100 to purchase all that security and functionality is money very well spent.
Harp Pickup by Headway
The most natural sounding and balanced pickup system available for the harp.

Headway pickup




Preamplifier HE1/G2.FEQ





Price:

£ P.O.A.
We can supply and fit a specially adapted Headway pickup with an extra long transducer. To ensure evenly balanced sound, we install the transducer down the entire length of the soundboard.
For full details, please visit the Headway website.
---
Harp Strings

Bow brand natural gut strings and Pirastro bass strings.
Bow Brand natural gut
Pirastro wire basses
Celtic wire basses
Nylon
Type

Octave

£ (GBP)

Bow Brand natural gut

Top


4.55


1st

4.55

2nd

6.35

3rd

8.15

4th

12.65

5th

21.00

Bow Brand wire basses

5th


11.75


6th

12.95

7th

14.15

Nylon

Top


3.00


1st

3.50

Pirastro wire basses

5th


39.95


6th

39.95

7th

39.95
---
Traveling Practice Harp
Following a request from one of our customers for some kind of aid to maintaining hard fingertips and also for practicing hand/finger positioning, we designed and developed the Troubadour.

Maintain hard fingertips
Practice hand and finger positioning
Compact and lightweight
Quick assemble and dissemble

Price:

£350
The Troubadour spans 2 octaves from middle C upwards and is strung with concert harp tension and string spacing.


When you have finished practicing simply slacken off the strings and fold the Troubadour up to give a very small and easily carried instrument (see Figure 01).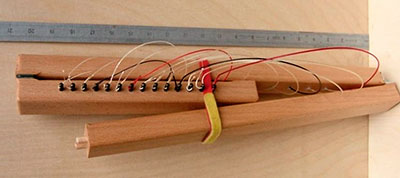 Figure 01.

The Troubadour travel harp now features a new quick release locking mechanism which serves to improve the stability of the instrument whilst making it quicker and easier to assemble and dissemble (see Figure 02).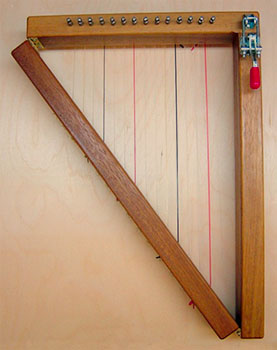 Figure 02.